A few months ago I bought a new (but dropped) domain name. After spending a few hours installing WordPress and writing some new posts, I thought I'd share my new website with some friends on Facebook. This is what I was greeted with!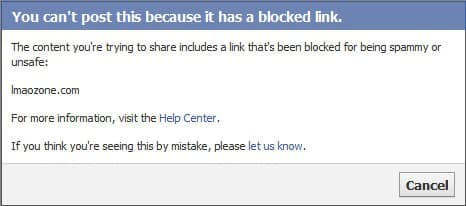 I was using the AddThis sharing service so thought it may have been something to do with that so my next step was to post a link directly on the sites Facebook fan page. To my dismay, I received the same message again!
Searching For a Fix
Doing a quick search on Google revealed I was not alone. There seemed to be hundreds of people on Facebook's Help Center complaining about the same issue.
One of the biggest complaints was the complete lack of any response from Facebook (no change there then). I decided to take matter into my own hands.
Looking back at the Facebook error message, its says my links was blocked for being Spammy or Unsafe.
I headed over to Sucuri SiteCheck to see if the domain was blacklisted by anyone…
It was! McAfee SiteAdvisor had incorrectly marked my site as malicious! WTF! After a bit more searching around, its seems Facebook use SiteAdvisor's database to cross check all domains before any URLs can be liked or shared!
If you're blacklisted on SiteAdvisor, you're blacklisted on Facebook.
Getting SiteAdvisor To Review Your Domain
There are several ways to get your domain or website re-reviewed by SiteAdvisor but I found the easiest way was to email support directly. That way you get a ticket number and you will get a real person response.
Send your review request to [email protected]
They say you can expect a response within 5 working days but in reality, it can take up to a month (think mine took about 29-30 days).
Anyway, after a month of waiting, people can now post and share links from my site!