Every time you upgrade your Mac, you realize all over again how slow your old computer had gotten. That wasn't just because it was an older computer; it happens because malware and viruses and accumulated junk will drag down your computer's speed and performance.
To keep your Mac running at top speed you enjoy when it's new, consider MacBooster for cleanup and security.
Features
MacBooster provides protection for your Macintosh computer, with the following features:
1. Comprehensive Protective Security
Protect your Mac from every potential threat, including adware, malware, spyware, ransomware, and viruses. The Program keeps your Internet use safe and worry-free, plus protects you from system attacks and phishing scams into the bargain.
2. Deep Cleaning for your System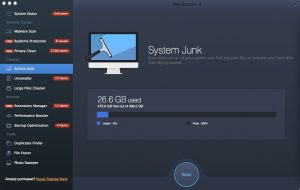 Clear out all those junk files that you're not using, and free up the space your Mac can use for higher functioning. It only takes one click to delete browsing history along with downloaded files, cookies, cache, and HTML5 system storage from your browser.
The program also keeps you safe by clearing your recent activity and app traces so your personal information stays secure. It removes thirteen different types of junk, including trash cleanup, software installation packages, mail attachments and downloads, and many others.
3. Manage Extensions
Third-party extensions can drag down the speed of your Mac's browser, and even expose your personal information. MacBooster removes unnecessary extensions from you browser whether you use Safari, Chrome or Firefox with a simple click of the mouse.
4. Track System Status
You can get a snapshot view of what's up with your Mac with the analysis of your system status. Scan your Mac to check for problems and simply click "Fix" to improve your computer's performance on the spot.
5. Boost Mac Performance
Not only to cache files and junk get deleted from your RAM, MacBooster can also fix issues with disk permissions to again boost your Mac's performance.
6. Remove Large Files
MacBooster finds excessive sized files, like .dmg files and movies, and give you the option of deleting them if you no longer need them.
7. Enjoy Top-Notch Service
The program also boasts a five-star representative available by email and free phone calls to help with any questions or issues you may have 24/7.
Pros
Users of MacBooster agree that it performs superbly at removing large files and apps that are usually hard to get rid of.
It's easy to use, scanning and fixing issues with nothing more required of the user than a click of the mouse.
You will find there is a noticeable difference in speed and performance after you have used the program, and you'll love its ability to customize what types of files get cleaned up.
Cons
The only downside I can think of about this software are the "annoying" pop-up reminder to empty the trash, and the need to manually update the virus database.
Conclusion
MacBooster is a must-have for Macintosh users who value the speed and performance of their beloved Macs.
Detect and remove malware and virus
Improve & boost your Mac performance
Deep clean to free up hard drive space
Real-time & proactive privacy protection
Why not download a FREE version first and try it before you buy?