Is your PC running slowly? Are you getting error messages during boot up? When you get these kind of errors, you normally would need to reinstall a fresh copy of Windows to get your computer working again. But fear not! In today's review, I'm going to be testing Reimage Repair to see if it can fix these issues for you!
If you don't fix your PC , this could mean you might lose all your valuable files and photos etc. This is where Reimage Repair can help. It is a unique program that helps fix any Windows PC without out the need to reinstall windows.
How Reimage Repiar Works
When you install Reimage repair tools for the first time (Get a download here), it will do a complete scan of your system to build a profile for your computer.
The first scan analyzes your system including your hard drive, memory, system temperature etc.
The second stage is the test for stability of your system and it will find out applications and processes causing problems to your system.
The third stage analyses system security. At this stage, Reimage will run a scan to detect boot up viruses, malicious programs, defective registry entries and unwanted temporary files.
A PC scan summary is produced which will contain issues related to stability, security, registry and junk files. The whole process is completed automatically so you dont have to do anything but sit back and relax while Reimage scans the system.
After analyzing your computer, all you have to do is click the repair button. In order to do that, you will have to purchase the software. Although from what I have experienced using Reimage, this software is worth every penny.
Reimage Features
Reimage Repair has a very unique and useful set of features which no other PC repair tool offers. The most helpful feature is the windows repair option.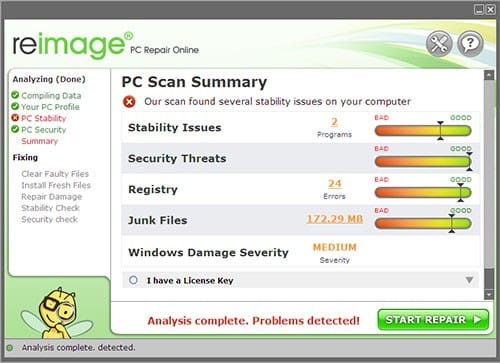 If your system have any damaged or missing files, Reimage can restore it by downloading the necessary files from their huge database. Normally, a user would have to find out what is causing the problem or which file is missing and then search online to find a solution to fix the error caused by windows.
Majority of the average users won't be able to do this. But Reimage provides a one click solution to this problem by providing automatic scanning and fixing. So if you have Reimage, you don't have to reinstall your windows OS whenever something goes wrong.
Reimage can also help you to recover from viruses and malware attacks. It'll detect the changes in your system caused by viruses and will try to revert back the changes to make your system clean again.
Ease of use
The user interface is clean and streamlined. The program wont confuse you with a 100's of options to select before fixing your system. When you download and install the program, the scan is done automatically on first run. The results show where the problems are on your system.
The fix is performed on a single click of a button and the tools will perform all actions required to make your computer running smoothly again. The ease of use is one of the reasons why this tool is suited for inexperienced or busy people.
Conclusion
Reimage Repair is one of the best tools providing complete automatic repair solutions for your windows computers. It can recover your system from crashing, freezing or running slow.
What makes Reimage unique, is the system repair option which finds errors in system files and replaces them with proper working files. The user interface is simple so that even an inexperienced user can use it. Reimage Repair also optimizes the system for smoother running.