Sopcast is one of the most popular streaming p2p programs in the world. It has several years of development under its belt which makes it one of the best available. It is even capable of streaming some channels in HD (in beta) if you have a fast internet connection.
Another reason Sopcast has been so successful is it allows users to make their own channels. Because this is easy to do, its no surprise that you will find almost any live sporting event being streamed.
Available Channels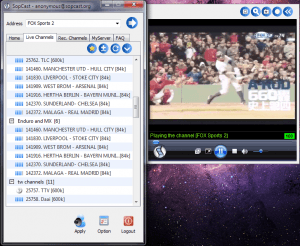 You can use the software to watch several sports channels eg 3TV1, ESPN,CCTV5, Guandong, SHTV, StarSports and many more.
Sometimes its worth waiting until just before a game starts to see if a test channels appears. People normally name their channel something like "Manchester United Vs Liverpool" or "New York Giants Vs Washington Redskins".
There are many forums that post Sopcast links for particular games. All you have to do is copy and paste them into the address bar at the top of the program. Just don't forget to press the blue arrow to start the stream.
Making Your Own Channel
Running your own channel is free and easy to setup, all you need is a TV tuner card.
PC Tuner cards come in 3 types
Satellite TV (DVB-S)
Cable TV (DVB-C)
Terrestrial TV (DVB-T)
All are able to be re-transmit using the program.
Using Sopcast
When  you first run the program, you will be asked to choose your language. You will also be asked whether to allow the program to open ports in your computers firewall. Always say yes because opening the ports allow for better video playback.
The latest version is a great improvement over older ones. Channels load and buffer much quicker than before. I have a 20mb broadband connection at home and channels only take 5-10 seconds to start. The channel list is automatically updated each time you load the program.
Download
Download sopcast from the official website here.
Sopcast has been defunked. Be very careful where you download older version of Sopcast online.