If you have found your way to this page, then you're obviously looking for a way to watch your favorite NFL or NCAA football team online.
It's possible to watch live football online, but there are a few different ways you can go about doing so which I'll explain below.
NFL Game Pass
Using a NFL Game Pass is the best way to get the highest quality HD video streams online (HD is dependent on your connection speed). You can choose from 3 options.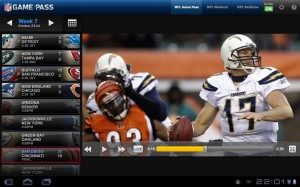 Season Plus ($199.99), Season ($159.99) and Follow Your Team ($129.99) which is the cheapest option as you will only be able to watch the football when your team is playing.
Now the NFL Game Pass will only work outside of the US, but don't worry my American friends, I have a way around the broadcast restrictions.
Doing so will save you from paying the extortionate prices cable and satellite TV providers charge you.
To get NFL Game Pass working in the US, you will need to use a VPN service to fake your location. A VPN service will let you go online via a server in another country.
For example, you could use the VPN to connect to a UK server so that when you visit the NFL Game Pass website, it thinks you're in the UK and work!
Go to NordVPN and signup to the VPN – Click Here.
Once you have the Hide My Ass VPN installed, connect to a server anywhere in Europe.
Go to the NFL Game Pass website and sign up – Click Here.
Using P2P Software
You can also watch live football online using p2p software programs live Sopcast available for download from here. It's a bit hit and miss whether you'll find the game you're after, but with a bit of effort you usually can.
The good news is the programs are free and there are relatively fewer ads then free streaming websites. The down side is that the video quality is not very good and games do have a tendency to buffer and stutter allot.
I tend to recommend using Sopcast as it seems to have the most sport channels to choose from. Check out my review here.
Using A Streaming Site
Do a Google search and you will find plenty of websites offering you free NFL and college football streams.
While watching this way does work, you'll have to have your wits about you. If any site says you need to install a codex, toolbar, media player or any software for that matter, run a mile as it's almost certainly going to be malware of some kind.
The streams are also covered with ads. And even once you've battled your way through the first barrage of ads, more start popping up automatically after a set period of time throughout the game.